JCSS Accredited Density Standard Liquid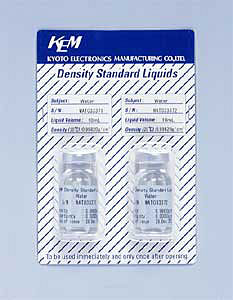 Logo mark is the symbol of an Accredited Calibration Laboratory based on the Measurement Low. Our Density Standard Liquid Laboratory is accredited as Accredited Calibration Laboratory in the field of density (The number "0115" is the JCSS accreditation number assigned for our density standard liquid laboratory). JCSS, Accredited Calibration Laboratories are assessed on JIS Q 17025:2000 (ISO/IEC 17025: 1999).

JCSS Accredited Density Liquids can be used to guarantee the quality of calibration for oscillation-type density meters. KEM density standard liquid laboratory (JCSS Accreditation No.: 0115) has been supplying the JCSS accredited density standard liquids traceable to the specific standard (Spherical mono-crystal silicon) of National Measurement Standard (AIST) using the density hydrometer.
| | | |
| --- | --- | --- |
| Density Standard | Density(at 20°C) | Uncertainty |
| Pure Water | 0.99*** g/cm3 | ±0.00003 g/cm3 |
| | |
| --- | --- |
| Parts No. | Description |
| 988110076 | 2 vials of density standard liquid |