PC Card (exclusive to AT-510)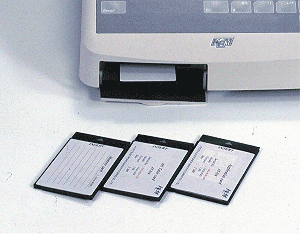 The following three types of PC card are available:


1.) Memory card (98-434-0039)

Can store, read and write measurement methods, titration conditions and other parameters. Further, can perform recalculation or statistical calculations by recalling measured data.


2.) Application card (98-434-0173)

Can use 70 various measurement conditions (parameters for such as titration, control or calculation) prepared by us.


3.) pH temperature compensation card (98-434-0175)

Can make temperature compensation on pH, based on international standards, with pH temperature compensation tables of JIS, ASTM, DIN, BS and NF.